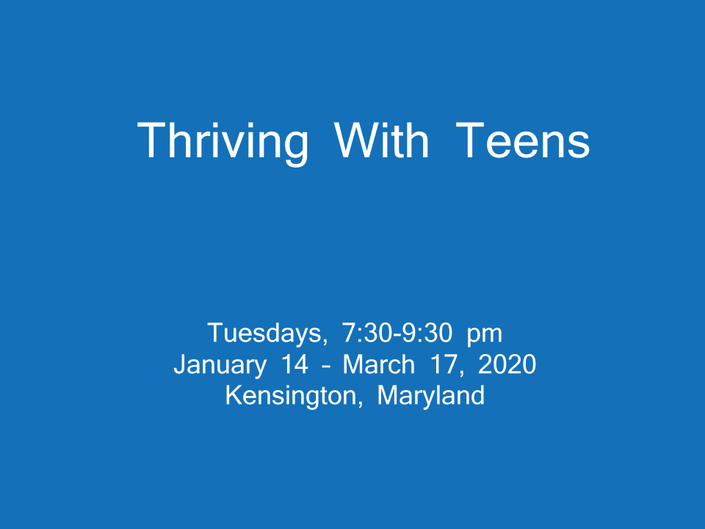 Thriving with Teens, Winter 2020
Learn proven, positive strategies to parent teenagers effectively in the midst of their peers, media, the Internet and their own adolescent development. Communicate with your teen on topics from school to sex; use problem solving and positive discipline to guide your teen's growing independence; and build a relationship based on mutual respect, cooperation and responsibility.

Class Details:
Meets in person at the PEP Office, 10100 Connecticut Avenue, Kensington, MD 20895 (in Kensington Baptist Church on the corner of Connecticut and Dresden). Enter the parking lot from Dresden St. and enter the building from the back parking lot.
Tuesdays, January 14 - March 17, 2020 from 7:30 - 9:30 pm
Textbook: Positive Discipline for Teenagers, Rev. 3rd Edition by Jane Nelsen and Lynn Lott. Order here.
Cancellation policy: Cancel at least 48 hours before the first meeting of the class and receive a refund minus a $15 administrative fee per person. Withdrawals after the first meeting, but before the second, receive a 75 percent tuition refund. There are no refunds after the second class meeting.
Cost: $279 per person, or $498 per couple registering together.
EARLY BIRD DISCOUNT: Get 20% off individual registrations and 10% off couple registrations by using the coupon code EARLYTEEN when you check out. Early bird registration discount expires January 3, 2020 at 11:59 PM.

Note: Should you require proof of attendance for any reason, please notify PEP by email: [email protected] before registering.

The Benefits of an In-Person Class
You are able to interact with your PEP Leaders and other parents face to face.

You will have the opportunity to ask questions in class and will have the contact information of your PEP Leaders for questions that come up between classes.

You will learn new parenting techniques and be able to practice them before you "debut" them at home.
You will learn from other parents that you are not the only person with an uncooperative teen and learn many ways to win your teen's cooperation.
Your Instructor

PEP Leaders (what we call our parent educators) are first and foremost parents just like you. They started in PEP classes, looking for answers to their parenting questions. They found the PEP approach so helpful in their families that they trained to become a PEP parent educator. Your PEP Leaders have spent hundreds (and in some cases, thousands) of hours in classes and training sessions as well as in on-the-job training in order to gain the skills to be working with you today.
Frequently Asked Questions
What if I have to withdraw from the class? Will I get my money back?
If you cancel your registration at least 48 hours before the first class meeting, you will receive a refund minus an administrative fee of $15 per person per class. If you withdraw after that, but before the second meeting, we will refund 75% of the tuition. There will be no refunds after the second class meeting.
Can my spouse and I share a class? We both travel a lot and there will only be one of us at each meeting of the class.
No, each person planning on attending the class must be registered. We do offer a couple's discount to make two registrations more affordable.
I have to miss a few classes because of travel. What do I do about that?
You have a few options. If there is another class offered during the same term (e.g., Thriving with Teens on Wednesday evenings and Friday mornings), you could attend the week's meeting of the class you missed at the other location. Or, you may make up two weeks of your class in the next term. One more option is to join the class remotely via a class participant's phone or ask someone to record the class for you (provided the rest of the class gives their permission to have it recorded). Talk to your PEP Leaders about it.
Do you offer scholarships?
Please call or email the PEP Office about scholarships or payment plans. 301-929-8824 or
[email protected]
I have a teenager and an 8-year-old. Which class do I take?
We recommend that you take the class that includes the age of your more puzzling or challenging child.